What is Parkonic flow?
Barrierless & ticketless parking solution
Getting Started
You can sign up on the web at www.parkonic.com/register or by downloading the Parkonic app. To register you will need some information such as:
Car plate number
Emirates ID details
Once you have signed up for Parkonic (web or app), you will receive your Parkonic RFID tag which you need to attach on your windshield.
The PARKONIC tag is free but courier fee is AED 50. It will be delivered to the address that you specify during registration. For multiple vehicles, you can request one tag for each and link them to one PARKONIC account.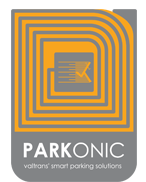 INSTALLATION OF PARKONIC RFID TAG: Stick a PARKONIC RFID tag to the windshield of your car. The RFID tag is linked to your prepaid PARKONIC account.
Check for the right position: Position your tag approximately 1 cm below your rearview mirror or if vehicle is with a metallic windscreen, check for a lighter area on where to position the PARKONIC tag.
Clean your windshield Wipe and dry the inside of the windshield where you will be sticking the PARKONIC tag.
Peel your PARKONIC tag Peel the transparent liner off the PARKONIC tag.
Stick your PARKONIC tag Press one edge of the tag to the windshield, rubbing the tag's surface for any air bubbles.
Note: You only need one tag per vehicle.
Shipment and Delivery: Once you processed the order online, you will receive an SMS for the confirmation. The tag will be delivered within 5 business days from the date of the confirmation. You can track your shipment at www.aramex.com using the waybill number. Please note that there are some areas that are outside the delivery areas of the courier. In these cases, you can collect the tag from the nearest Aramex office.